Happy Anniversary to my Sweetie-Pie!
5 Years ago I married the love of my life and haven't looked back since. It's been amazing to spend all of this decade (we became a couple in 2000) loving him and being loved by him. Our life and our love is already whole and complete now. I can't wait to see how God in His infinite wisdom and grace expands that to be more whole and more complete. Happy Anniversary, my Love.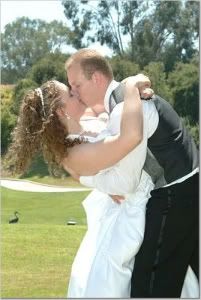 We're spending the day just hanging out. We're going to dinner tonight-a treat from our grandparents and my parents, and then on to dessert at the Melting Pot-yum!
It's funny...when we were getting engaged and thinking about family and working through premarital counseling, we said we wanted to wait 3 to 5 years before having children. That desire changed and timeline shortened once we were married but now here we are, exactly 5 years in, about to embark in to a whole new world. We are grateful that we have had this time of friendship, camaraderie, and adventure to build our relationship before the dynamic changed. A selfish part of me will miss having him all to myself! But man...how lucky our kids will be to have him for a dad!
Happy Anniversary too, to
Joe and Diana,
who quite "coincidentally" were married the same day and year as us, a few hours later and less than 100 miles away from us!
And Happy Birthday to
Amanda!
I hope you are celebrated today for all the things you are and rolls you fill, including but not limited to new mommy!
Hey at least you all had the courtesy to choose a date easy for me to remember ;) Love you, friends!
Like the new blog look? It's courtesy of
Lena
(save a few tweaks to shrink the header size) and her
free blog templates
. I have several blog buddies whose blogs I always thought were lovely. One day I found Lena's blog and found that all that lovely work was done by the same talented person! Thanks Lena, for sharing your talent with us!
I've also got a new picture. I cut, colored and highlighted my hair today. It's something I've always wanted to do but was never brave enough to do (yes, I am in fact a chicken about EVERYTHING). I did mild highlights twice back in college when the hair place I used to work for did them for free, and then I've used a drugstore box of color a time or 12, but I've never had anything like this done. I LOVE the base color. I'm not so wild about the highlights--these particular ones are a little Jennifer Aniston of 1995ish...but I like the rest of it. I really wanted to do it so I didn't look like I had a fried out mess on my head when we have our match meeting next week. My own natural color always turns a nasty shade of brassy at the ends so I feel much more well kept with it all under control. They probably won't care, but I feel much more presentable! I cut off the top of my head in this picture, but 8 gazzillion tries at a self portrait with no tripod or remote later, this is what I came up with.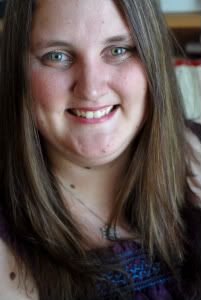 That's all for now! Bed is calling, which it's allowed to do at 2:30 am!